DESPERADO'S BBQ
BIG PAPPY'S BBQ
OFF THE BONE BBQ
CAROLINA RIB KING
Enjoy Sizzlin' Hot Ribs from both new and returning vendors from all over the United States! Will Desperados BBQ take the crown for the second year in a row during our 2019 Rib Master showdown, or will we crown a new rib champion? Whatever happens, you can be sure that this is the only festival in Ohio that you can't afford to miss!
The Canal Winchester Blues & Rib Fest is a one-of-a-kind experience sure to please everyone, come to historic downtown Canal Winchester and enjoy music, food, and memories.
SPECIALTY FOOD & BEVERAGE VENDORS
Find your favorite festival foods at the Canal Winchester Blues & Rib Fest!
Check out our extensive menu below!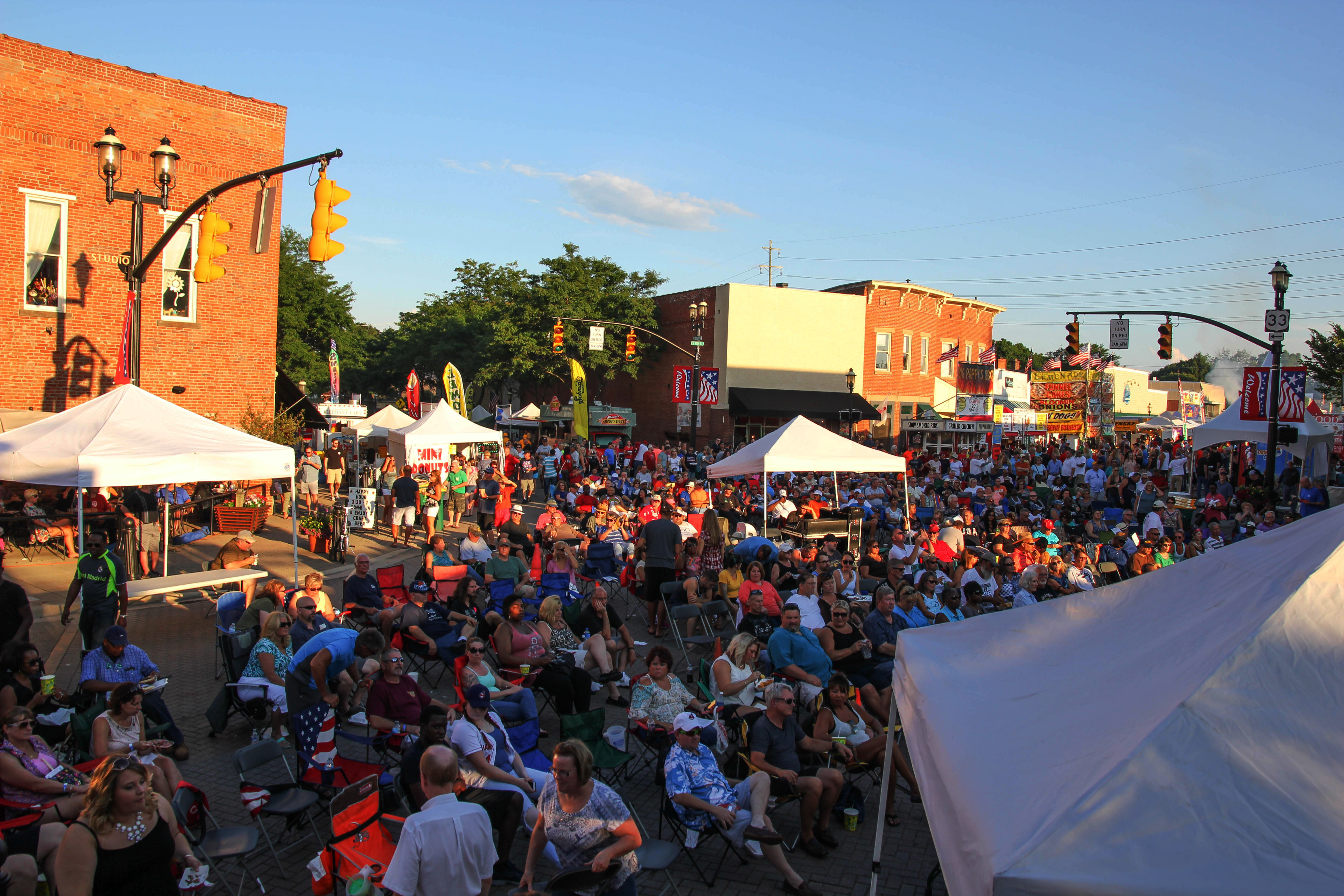 AMISH DONUTS....
Maple glazed donuts, triple Sensation Peach donuts
BUBBA'S SHAVED ICE....
New Orleans shaved ice snoballs - 124 flavors
BUBBLE BUZZ....
Bubble Tea
COSMIC KETTLE CORN....
Kettle Corn, Caramel Corn, cold brewed coffee
DAVID'S EVANGELICAL LUTHERAN CHURCH...
Sweet Corn
THE LEMON KING....
Classic and flavored lemonade
MAUGERS' MINI DONUTS....
Cinnamon-sugar coated donuts
MEDALLEN'S GYROS....
gyro sandwich/salad, gyro rolls, cyclone fries, baklava
MEFCO LLC....
Pork Rinds, Bacon Puffs, Pucker Powder
OHIO VALLEY KETTLE CORN...
Kettle corn
SCHMIDT'S SAUGAGE TRUCK....
Bahama Mama, pork brats, chicken brats, frankfurters, German bologna, German potato salad, kraut, sweet red cabbage, cream puffs
SHANNON'S SWEET TEA...
Sweet tea
SUGAR SHOCK...
Elephant ears, funnel cakes, deep fried oreos
TMJ'S HOUSE OF DAWGZ
Gourmet hotdogs
TROPICAL CHILL HAWAIIAN ICE....
Authentic Hawaiian Shaved Ice
WARREN & TWILA MAST....
funnel cakes, elephant ears, corn dogs, cheese on a stick, chocolate dipped frozen bananas and strawberries, deep fried Oreos and candy bars, root beer floats, ice tea, hot fudge brownie sundae, buckeye brownie sundae
WELDON'S ICE CREAM...
Ice cream cones/cups, shakes, floats, sundeas, slushys